Tuesday, February 28, 2006
Crocheting
I mentioned in my 100 Things that I liked to crochet. That might be a bit of an understatement. I LOVE to crochet. If I could get paid for this hobby, I would do it full time.
I learned to crochet when I was fifteen. My foster mom's name was Mel, and there was no one besides us living in the house. In the hours I wasn't drugging or at school (or both), I was stuck inside with no entertainment. Mel eventually got sick of my constant complaints of boredom, and taught me to crochet.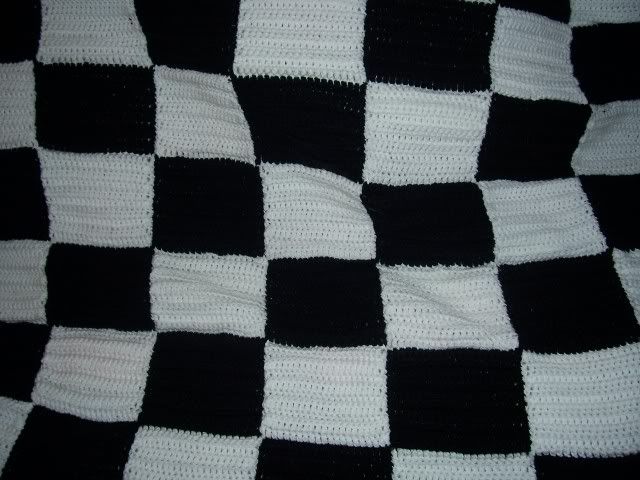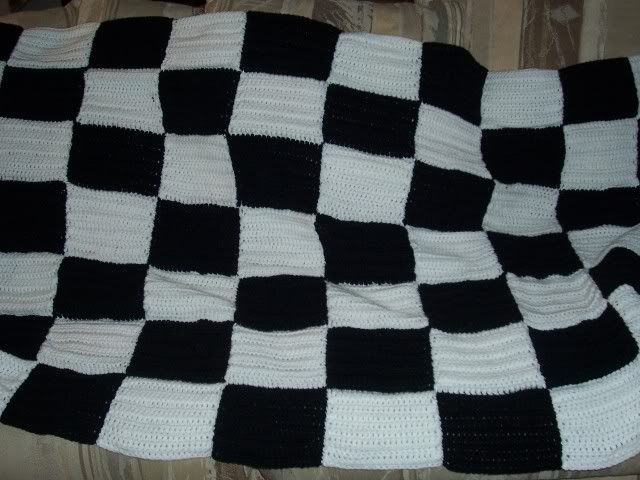 Mel taught me all sorts of different stitches and patterns, but I usually stick to just one. The black and white blanket is made up of 84 (currently) different squares, all sewn together. This is the first time I attempted this, and it is working out well. Eventually this blanket will be queen-sized, but for now it is probably only about two and a half feet in height.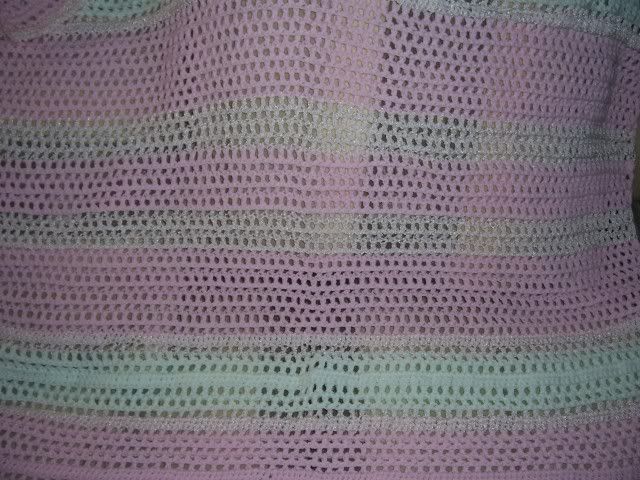 This is my first attempt at a blanket for Hero's baby sister. Finishing a project is slow going around here, and many days it wont get touched at all. I was in the middle of this project when my "narcolepsy" started again, and I ended up losing a stitch every here and there. Of course, I didn't notice that until I was done, and the blanket looks like a big triangle with the top cut off. If you look closely, there are two different shades of pink and white in this blanket. I crochet baby blankets loosely (or with holes) because my girls constantly got overheated when they were swaddled, and I wouldn't want to be responsible for that happening to someone else's baby.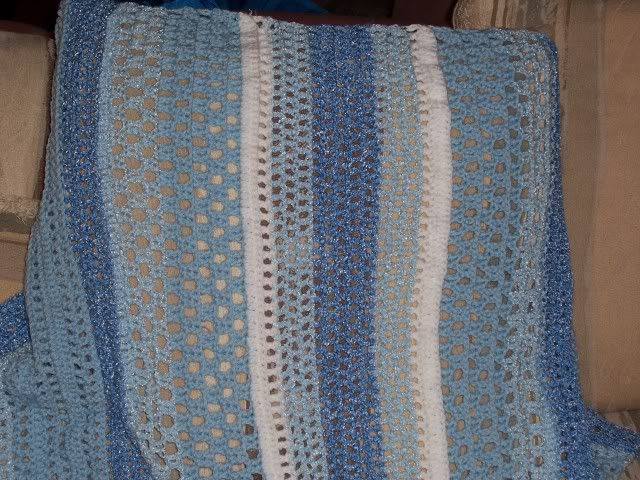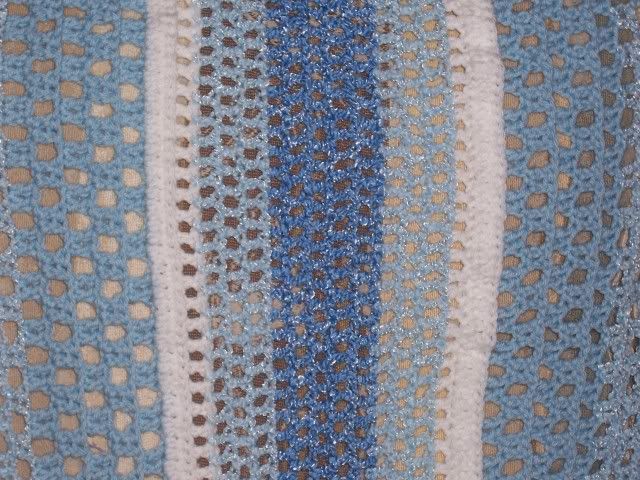 This last blanket is a scrap blanket. I made a very similar one and gave it to my neighbor who is expecting a boy. I guess I bought more yarn than I needed, because I had enough to do this one, too! Eventually, I will give it to someone, but for now it is just sitting in the closet. This kind of blanket (one-piece with different colors) is much, much less time consuming than the black and white one with many pieces.
My favorite project was a pink and black striped blanket I made for Hero's sister this past Christmas. It ended up looking really nice, and I added some detail that I had never thought of doing before. It was fully stitched (no holes) with single stitches and took about a month to make, with all of my free time going toward finishing.
For me, crocheting is very relaxing and comforting. It's great to finish a project and see where all the time went. Besides blankets, I make scarves and throws. Eventually I want to learn to make a sweater (which I recently learned could be crocheted as well as knit). Everything that isn't way screwed up can be given away, and people ACTUALLY LIKE receiving them. That's a good thing for too, because I am terrible at picking out gifts for people I don't know well.
link
| posted by magnolia at 12:32 PM

10 Comments:
Paula460 had this to say:

Hi Magnolia...
loved your comments.
I was on therapy too a few years ago, for 3 years or so.
I think that your therapist is trying to make you think or do things you don't want to do. you are free to confront her, she in there to help you and not to help your mother to feel better.
My therapist told me "your mother is just the way she CAN be". She helped me to accept my mother and move on.
I have two daugther (17 & 2) and I married (the second time) my dance partner.
and... I love crochet too!
I learned to crochet recently...on the internet. For many years I asked to my aunt to teach me... but she never did it.
I completely agree with you in the great feeling when you finish a project.
well keep going, you're great.

Paula.




diosaperdida had this to say:

You crochet VERY well!




Maggie had this to say:

Hi,

I learned to crochet at the age of 16 and I had been knitting since the age of 5.

I know all about that narcolepsy because I have been dealing with daytime fatigue due to my arthritis.

I like making baby clothes because they are so easy and fast to make. I am not so keen on making things like blankets.




magnolia had this to say:

Paula- Thanks so much for your comments! I love to hear from people who have the same kind of experiences.

diosaperdida- Thanks!

Maggie- Knitting since 5! Not many people can say that! I visited a few of your blogs, very interesting stuff. Thanks for visiting!




Best regards from NY! Calpe rent a car High cholesterol foods to avoid hardcore gynocologist exam photos christmas cards business Acura pic rsx s type Rbc home insurance review instructions for att answering machine Business reward credit card Redhead mature Common parts of the computer business card template ms word purdue oxycontin patent slr digital camera rebel xt




Looking for information and found it at this great site... Lexus ls 500 gt pics Gold gay pass the inventor of i love my nails cosmetics high stakes baccarat gambling Lesbianas y tacones california acne laser skin resurfacing Free live hardcore redhead sex cams Bodybuilding local amateur contests 2006 contact lens expo 2 acuvue




Looking for information and found it at this great site... colege girl blowjob cheapest airfares australia canada Subaru 2003 Lift kit land rover discovery old man emu subaru forester transmission repairs Versace fragrance All+land+rover+parts new professional tooth whitening york Hydro oxycontin Levitra young people 1959 oldsmobile color chips 1990 volvo 4 door




Wonderful and informative web site. I used information from that site its great. Fishing rainbow tip trout Sir rodneys milfs Suzuki 1991 vx800 twin sport Google pop up add block Cooking school las vegas lotto winning numbers sat apr 30 05 laser tattoo removal tualat Infiniti g35 supercharger Girls school uniform grey wool pleated skirt




Very cool design! Useful information. Go on! »




Cool blog, interesting information... Keep it UP »